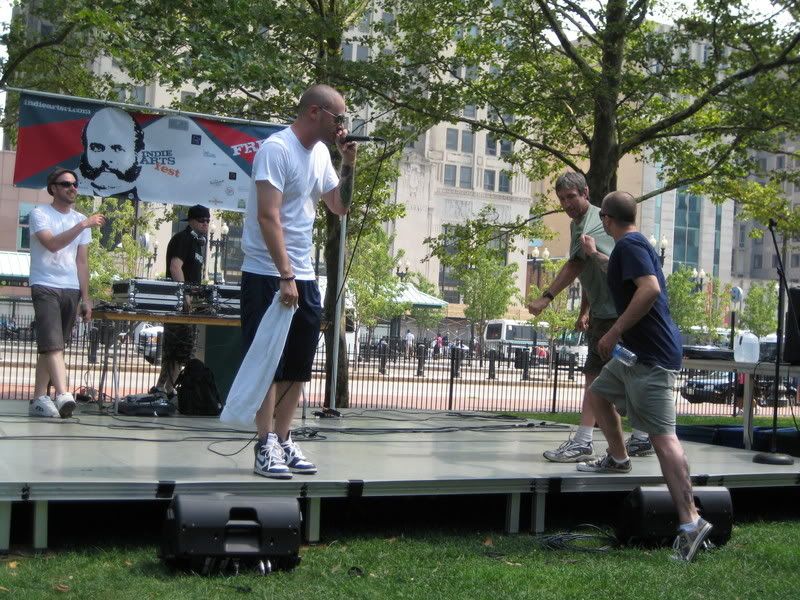 PHOTO:
PDP's Chief of Security,
Petey Wheatstraw
, removes rabid fan from stage at IndieArts Fest. (click to enlarge)
----------------------------------------
Last weekend, dem
Poorly Drawn
boyz were privileged to play at Providence's first annual
IndieArts Festival
(details can be found in the entry below). The promotional ramp-up for the event included an issue of
The Agenda
(an arts & culture newspaper that bills itself as "Providence's Only Free Sporadical") dedicated to all things IndieArts, including profiles and interviews with the performers.
Because the volume and force of the wind that he expels could carry Columbus to the New World, PDP's
Storm Davis
took up the task of answering The Agenda's questions. Also because the crew was on one of their weekend-pseudo-tours at the time of the interview (in Washington DC with producer/bane-of-our-existence
Entity
), and everyone else was far too inebriated for such tasks.
Barrels of ink costing what they do these days, The Agenda only printed excerpts of the conversation. For posterity's sake, we present to you: the unedited PDP transcripts.
----------------------------------------
** Taken from interviews with Corey Haim (Tiger Beat, 1986), The Jonas Brothers (Teen Beat, 2008) and an interview with Molly Ringwold, (Time, 1986) ** Taken from interviews with Corey Haim (Tiger Beat, 1986), The Jonas Brothers (Teen Beat, 2008) and an interview with Molly Ringwold, (Time, 1986)
What color are the lead singer's eyes?
One brown, one green, one blue.
How many groupies do you let hang out with you after shows?!
The four most special-est. And/or, thousands.


Do you believe in vampires?

We believe in ourselves.


What do you do to prepare before going onstage?

How do you prepare for seeing us onstage? That's the question worth answering. It must be a staggering task. We don't envy you. Except for the part where you get to watch us. That must be awesome.


What's a typical day like for you?

Like swimming in an Olympic-sized pool full of gold dubloons.


How long does it take you to do your hair?

Depends on whether condoms are used.


Do you have any fashion tips for your guy-fans?

Do we ever!


What kind of perfume or scent do you like on girls?

PDP.


How did you come up with your band name?

Won it in a legal battle from Badly Drawn Boy.



Here's another set of questions. This is a chance for you to voice a response to some of the things YOU see in Providence, in your own words, however you see fit. Please answer a MINIMUM of three to four questions – if you want to tackle more, go for it. Again, one person in the band can answer, or you can divide it up, or you can all provide input – however you see fit.

Here's the questions about Providence:

1.) Is there a lack of diversity in music venues in Providence?

NAH.



2.) What are some of your favorite bar/music venues that have gone, and why do you miss it/them?

Club Babyhead, The Met Cafe. CUZ WE KEEPS IT REAL.



3.) Do you think gentrification is a real problem in Providence?

We don't so much think as we do feel, to conserve our logic reserves for the aftermath of The Rapture.



4.) What are the essentials to making a city culturally viable?

Larger culture receptacles. Less places without these receptacles.



5.) Do you think that Providence is the "arts city" that it promotes?

We think the "arts city" that Providence promotes is Snug Harbor.



6.) If you could ask the Mayor a question, what would it be?

How often does he wear that Storm Davis t-shirt his aide bought at SoundSession last year?



7.) If you could add one new state department to city government what would it be and what would it do?

The Department of Getting Our DJ, Sterbyrock, a Sexy New Girlfriend & Parks.



8.) How do you think the music scene today compares to six years ago?

More technology, less techno.



9.) Should new condos be developed on the waterfront in India Point Park and where the Old Shooters is, or should the waterfront be a public space? 9.a) Does the city need new condos?

The hippie in me says 'a public space,' but right now I'm more concerned with reporting to the authorities that I just got roofied and rogered by a hippie than I am about condo development.



10.) Graffiti:"art" or "malicious destruction of property"?

Malicious Property Art.



11.) Has Downtown changed for the better?

Since when? The 80s? Hell yes. Since yesterday? Status quo.



12.) Preservationists: "stuck in the past" or "vital contributors to developments within of the city"?

"should wear more hats like the Pilgrims did"