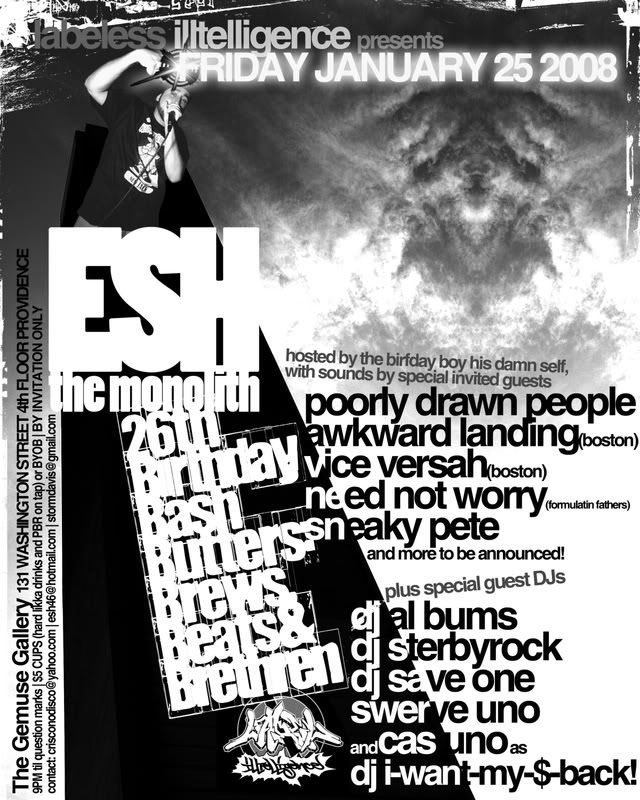 Finally, membership in the forum of fans and friends of PDP reaps rewards: you and yours are (quite possibly) invited to a hush-hush performance of
Poorly Drawn People
at a birthday party for
Labeless Illtelligence's ESH THE MONOLITH
!
FRIDAY, JANUARY 25, 2008
The Gemuse Gallery
131 Washington St 4th Floor
Providence RI
FREE!!!!!!!!!!!!!!!!!!!!!!!!!!!!!!!!
performances by
POORLY DRAWN PEOPLE
(Storm Davis / Reason / Dox / DJ Sterbyrock)
AWKWARD LANDING
(Boston)
VICE VERSAH
(Boston)
NEED NOT WORRY
(Formulatin' Fathers)
SNEAKY PETE
(00Agents)
and more to be announced
with sounds from
DJ AL BUMS
DJ SAVE1
DJ STERBYROCK
SWERVE ONE
and
CAS UNO
as DJ I-Want-My-Money-Back
BYOB or $5 Cups for the Pabst Blue Ribbon kegs (for the hipsters) and hard liquor beverages available.
Starting around 9PM and running till the breakadawn or the lackalikka.
PDP will perform somewhere between 11-1.
If you've seen PDP live these past couple of years, odds are you've witnessed
Labeless Illtelligence
rocking before we go on. They're the ones cussing out the soundman, hurling pieces of the stage at the crowd, and occasionally challenging that same crowd (or other artists on the bill) to fistfights during their sets. So obviously, we refuse to stop booking them, and work with them every chance we get.
This Friday, we get to celebrate the chaos caused by these ultimate rap warriors as one of their own turns 26.
Come on, people: This is a birthday party for a guy named "ESH THE MONOLITH." Just think of the possibilities.
Come before the bar, come after the bar, or join us for the long haul, but don't complain no one throws good parties anymore. If you received this invite, you may bring or invite whomever you'd like, cuz we know you only roll with good people, right?
Email stormdavis@gmail.com to confirm your status as invitee
, RSVP, or with any questions.
Hope to see you there to help us kick off the 2008's musical mission properly.