Greetings all,
We've got a weekend of live
Poorly Drawn People
coming up for you, plus some other events on the horizon to tease you with, so let's get right into it:
THIS FRIDAY, MARCH 14,
BISHOP'S LOUNGE in NORTHAMPTON MA...
You may have caught PDP's newest affiliates,
The Problemaddicts
at the March 6 show at the Living Room, where they made a heavy impression on attendees and acts alike. If you missed it, don't worry, we're bringing them back on Saturday April 5, but if you're in the Northampton MA area or down for a Friday night road trip, they're bringing us out to their home turf to warm up the crowd before they rock with a live band!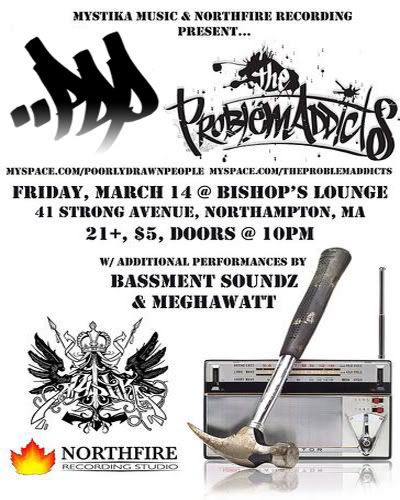 The Problemaddicts / Poorly Drawn People
Bassment Soundz / Meghawatt
Bishop's Lounge 41 Strong Avenue Northampton MA
21+ $5 Doors 10pm
-----------------------------------------------------------------
THIS SATURDAY, MARCH 15,
THE LIVING ROOM in PROVIDENCE RI with BOOT CAMP CLIK...
PDP open for the legendary
BOOT CAMP CLICK
, who bring members
Buckshot, Sean Price, and Smif N Wessun
(aka the
Cocoa Brovaz
) to town. Come see your mid-90s headphone sounds spring to life as BCC runs thru the classics, and catch PDP homies
Romen Rok
and
Chachi
rock along with
Starrs & Murph, Meal Tix, and Point Blank.***NOTE: PDP WILL BE PERFORMING EARLY,
IN THE 9 O'CLOCK HOUR.
PLEASE PLAN YOUR NIGHT ACCORDINGLY
IF YOU'RE COMING TO SEE US.***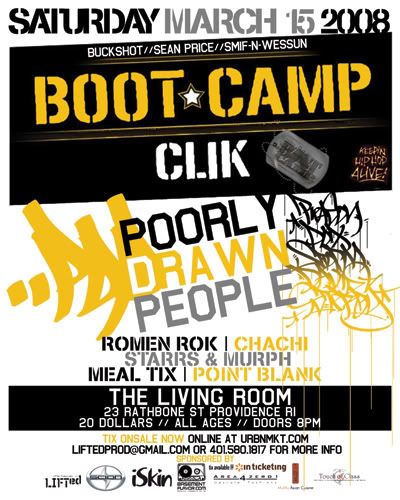 Boot Camp Clik / Poorly Drawn People / Romen Rok
Chachi / Starrs & Murph / Meal Tix / Point Blank
The Living Room 23 Rathbone St Providence RI
ALL AGES $20 Doors at 8pm
-------------------------------------------------------------------
COMING NEXT MONTH: PDP follow up NOTHING STAYS GOLD!
The last PDP mixtape/CD sampler,
Nothing Stays Gold
, dropped last September and proceeded to exceed every and all expectations we had set for it. Since you seemed to dig it so much (and we thank you for that), we pushed back the next proper PDP release, Storm Davis & Dox's
Robot Rock & Necktie Blues
, in order to bring you another batch of music from
SD, Dox, Reason, Entity
, and DJ
Sterbyrock
. We'll hit you with the title and details soon, but we can tell you that
the compilation will drop on SATURDAY APRIL 5 at THE LIVING ROOM, with FREE CDs FOR THE FIRST 50 PEOPLE THROUGH THE DOOR!
So mark your calendars and clear some space in your iPod, new tunes are just 3 weeks away!
OTHER PDP EVENTS COMING UP:Friday March 21, Cousin Larry's, Danbury CT
Live with D_Cyphernauts/Antfarm Affiliates
Saturday March 22, Local 121, Providence RI
DOX spins underground & old school hiphop with DJ Save1
Saturday April 5, The Living Room, Providence RI
Mixtape Release Show with The Problemaddicts and more!
PLEASE DIRECT YOUR ATTENTION TO...
If you don't find Poorly Drawn People particularly interesting, but somehow wound up on this site, might we suggest:
Wednesday March 12
Whalebone Jackson
play their gruff soul rock n' roll at the Brooklyn Coffee & Tea House in Providence RI.
www.myspace.com/whalebonejackson
for details.
Friday March 14
Labeless Illtelligence
rock Great Barrington MA. Details at
www.labelessilltelligence.blogspot.com
Saturday March 15
Prolyphic
performs at AS220 in Providence RI with his Strange Famous Records labelmate
B.Dolan
and more!
www.strangefamousrecords.com
or
www.myspace.com/prolyphic
for details.