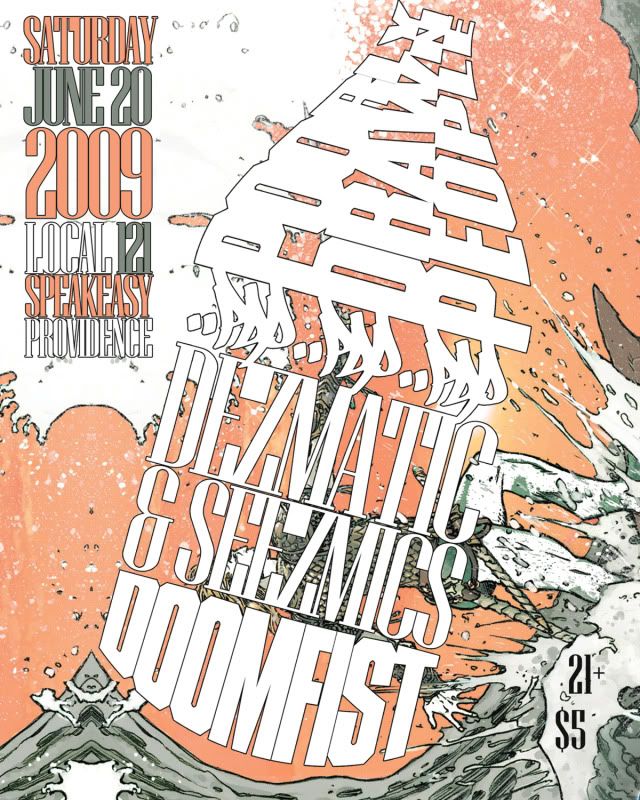 Unless you were one of the throngs who paid extra wide cash to peep us at Lupo's on Cinco De Mayo, it's been two months since you were able to see us do our little song-and-dance in Providence. We apologize for neglecting you so long, we figured we could use a dose of anticipation-building 'round these parts.
But wait no longer.

SATURDAY JUNE 20
LOCAL 121 - SPEAKEASY (downstairs)
121 Washington St
Providence RI
$5 / 21+ / Doors 10pm

POORLY DRAWN PEOPLE
[Storm Davis / Reason / Dox]
DEZMATIC & SEEZMICS
DOOMFIST
hosted by CAS UNO & ESH of Labeless Illtelligence
Plus old school classics to nod ya head to (and such) provided by a rotating crew of deejays, all in the cozy confines of 121's underground Speakeasy area.
SeezMics
is the homie from
Educated Consumers
(you may have seen him rock solo at Dox's Excursions night at Tazza a few months back, or caught them with us and Eyedea & Abilities last year at the late, great Living room).
Dezmatic
is Seez's homie from Albany NY, and
Doomfist
are Dez's peoples. You know
Cas
&
Esh
from all over the place, most recently from joining the party that is
Motion Not Emotion
. It's all rather Kevin Bacon-esque. And entertaining as fuck. Come have some fun with us.