Continuing our series of press-you-missed, here's an article from the June 2, 2010 issue of the
Providence Phoenix
spotlighting the recent works of PDP's
Reason
and
Falside
: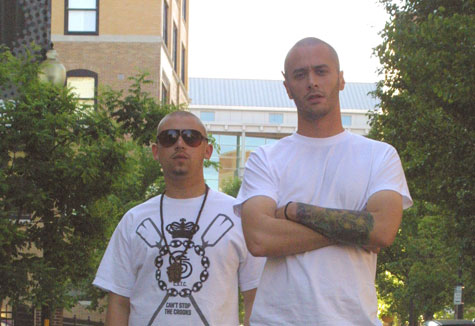 "Poorly Drawn People has some new members, and a new way of doing biz."

Earlier this year, acclaimed hip-hop collective Poorly Drawn People announced (via PoorlyDrawnPeople.com) the birth of Poorly Drawn Recordings, a home base for PDP pioneers Storm Davis, Dox, and Reason, as well as producer extraordinaire Falside, a key free agent pickup for the PDP ensemble. The February blog post gave some insight on the newfound, streamlined approach under the PDP REC umbrella: "We've managed to go our entire existence without signing to or establishing an actual record label . . . We've done pretty well as a 'collective,' a team with a revolving roster that carried the same flag onto the field every game.

"Same house, just got some new furniture."

PDP REC is accruing talent outside state lines, having signed Maryland-based duo Educated Consumers as well as providing support for longtime cohort Entity, who relocated to the D.C. area. Indeed, business has been steady at PDP HQ in '10, with Falside cranking out must-have mixtapes on a quarterly basis and the recent release of the critically-acclaimed Landlords & Lullabies by veteran PDP wordsmith Reason.

Esteemed producer Falside just turned 21 but has already garnered the respect of some serious indie-rap luminaries, particularly with his latest mixtape, Dollars Make Change. C-Rayz Walz drops two quality tracks, "Catching the Strange" and "Hall of Game," while Pacewon and El Da Sensei tear up "Too Many MCs." Termanology and Vast Aire also appear, and the standout closing track "Too Much" features Boston-based rhymer Slaine of La Coka Nostra fame. The Dollars mixtape is available for free download at Falside.com; while you're there, be sure to look up his previous releases, namely the Meet n Veggies EP with Boston turntablist DJ Emoh Betta (of the Deck Demons) and the '09 "seasonal beat tapes" Cold Feat and Bugs In Ya' Teef. "I've just recorded a record with Jeru the Damaja," reads a Falside tweet from last weekend. Not too shabby, considering Falside was barely five years old when Jeru the Damaja dropped The Sun Rises In the East (Jesus, we're getting old).

Andrew Martin, local journalist and co-founder of the rap authority PotHolesInMyBlog.com, acknowledged Fal's enviable skills behind the boards: "Falside's production is just too damn good to not want him to take over, or at least be a major part of the game."

Falside produced seven of the 14 tracks on Reason's Landlords & Lullabies, with quality production help from ESH the Monolith of Labeless Illtelligence and PDP's Dox. Landlords is the official follow-up to his 2006 solo debut Gemini Slang (the recent Stalker Stories mixtape is also up for grabs free of charge); he was also an integral voice on Poorly Drawn People's Nothing Stays Gold, Shoot for the Stars, Hit the Ceiling, and Motion Not Emotion.

Landlords & Lullabies boasts more of Reason's slick quips and punchlines, necessitating the aural double-take when zipping through bars on "Girls with Cameras" and the new single "I Don't Want to Build," but Reason sounds more coolly confident on Landlords, and the opening four cuts are some of Reason's finest yet. Falside's funky percussion escorts Reason on the opener "Apocalyptic Sunrise," ESH loops drunken saloon piano on "Release," Storm Davis and Reason address trust fund "starving artists" on "Designer Kids," and "Paid Bills" (which debuted on The Ocean State Sampler, a free download available at PotHolesInMyBlog.com) proves why Falside and Reason make a nice tandem. No filler (or nonsense skits) here, as the latter-half cuts hold their own, from the funky Dox-produced jam "The Touch" to the new single "I Don't Want to Build," addressing wannabe "genre-hopping" Internet emcees. And a nominee for double entendre of the year goes to ESH on "Distracted": "Deep in a hole like Courtney Love on Ketamine."

FALSIDE.COM | MYSPACE.COM/REASON | Hit up PoorlyDrawnPeople.com for info on all past, present, and future PDP REC releases
Peep the article by Chris Conti in its original context
here
.