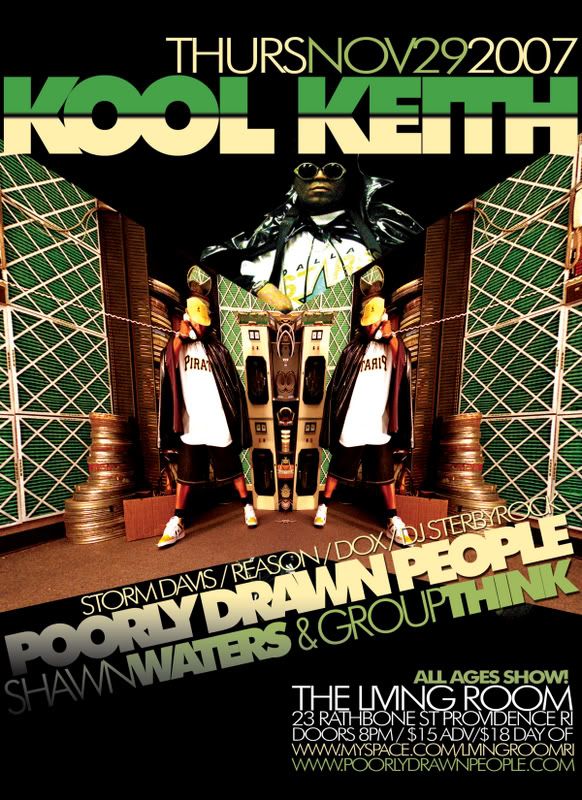 Thursday November 29
The Living Room
23 Rathbone St
Providence RI
ALL AGES / Doors 9pm / $15 advance $18 day of
KOOL KEITH


POORLY DRAWN PEOPLE
(Storm Davis / Reason / Dox / DJ Sterbyrock)
SHAWN WATERS & GROUPTHINK
AX BUTANE
You may know him as Dr Octagon, or from Ultramagnetic MCs, or maybe he's Black Elvis, Dr. Dooom, or Ice-T's partner in Analog Pimps. Or perhaps to you he's just Matthew. Whatever you call him, he's in Rhode Island this Thursday with Poorly Drawn People, so you're going to want to be there.
It's an all ages show, so any uninitiated youngins are going to want to get the science on Mr. Thornton, and can do so here:
Kool Keith - Wikipedia, the free encyclopedia
MySpace.com - Kool Keith - New York, New York - Rap / Hip Hop ...
and most 'specially, you must view Kool Keith's thoughts on seltzer water here:
http://vids.myspace.com/index.cfm?fuseaction=vids.individual&videoid=1048480139
additional info can be found at
www.myspace.com/livingroomri