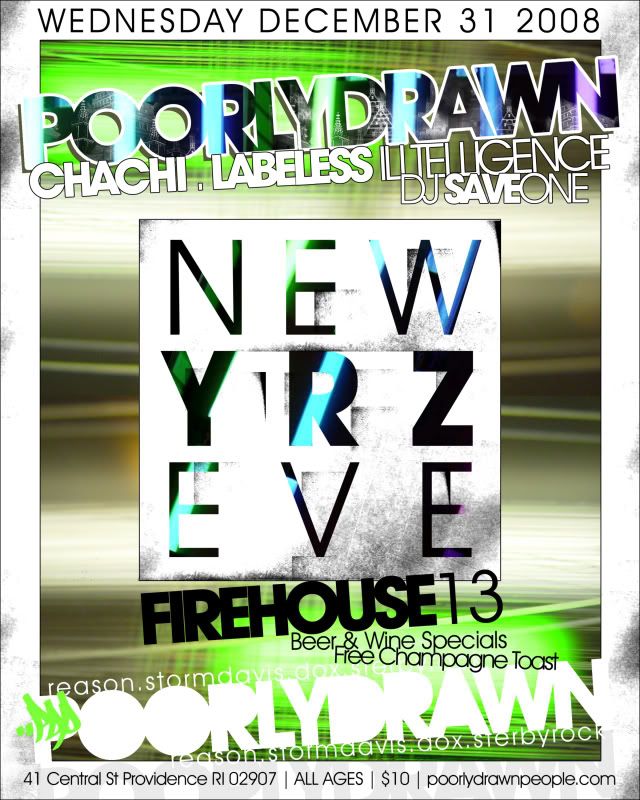 So the cascade of crystal condensation that made New Year's Eve afternoon a white-out zone led to the premature cancellation of the PDP New Year's Eve Extravaganza. Way to start out 2009 for your favorite indie rap swashbucklahz.
The crew scattered and did the did, with
SD
&
Dox
hopping from Lily's to lilypad, only to find there was no frog-kissing that could turn the frozen tundra of Providence into a palace full of princesses.
Sterbyrock
headed to Fall River to DJ what apparently was the greatest warehouse party in the history of the planet. Reason did what
Reason
does, and we're certainly not going to tell you what that is.
Entity
had Chinese food with Jarobi.
We hope your NYE was far superior to ours. And that you and yours have a safe, happy, and spectacular 2009.
Which brings us to 2009 in PDP-Land.
As is our custom, we'll keep close to the vest the details of what's on the horizon. But for now, we can tell you this: it's either going to be a beautiful year, or a beautiful disaster. If nothing else, it will certainly be a year to watch. Because this is the big one, friends & friendettes: we will either blow the roof off of 2009, or it will cave in upon us, and you can come visit the rubble and reminisce in the years to come.
Welcome to the last charge of Wyatt Earp and his Immortals.
Talk to you soon.
SD | PDP