Last week we introduced you to our new crew and detailed their upcoming exploits. This week, let's catch up with the old guard and see what the hell has been taking so long.
First up:
Reason
.
LANDLORDS & LULLABIES
Since Reason's debut solo album,
Gemini Slang
, dropped in 2006, he has steadily made a name for himself by slicing beats to bits on PDP's three most recent crew releases (
Motion Not Emotion
;
Shoot For The Stars, Hit The Ceiling
; and
Nothing Stays Gold
) as well as appearances on multiple projects by
Falside
,
Storm Davis
,
Educated Consumers
, and a number of international producers.
And now we're ready to announce a project that has been over 2 years in the making, the official follow-up to
Gemini Slang
, Reason's sophomore solo release...
Landlords & Lullabies
!


Landlords & Lullabies will be available for purchase on April 6, 2010 on CD through PoorlyDrawnPeople.com, CDBaby, and in finer independent retailers around the US, or digitally via iTunes, Rhapsody, eMusic, and all of those fine e-spots.
We'll drop more details soon, including tracklisting, producers, guest appearances and exclusive pre-order package details. But let it be known: it exists! And it will be in your hands soon.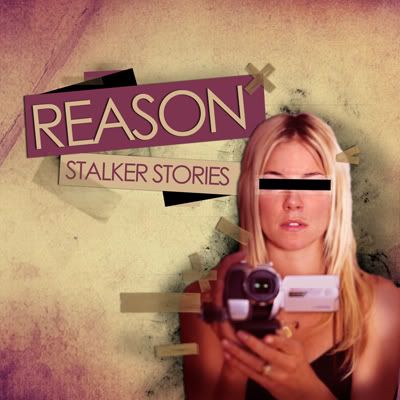 STALKER STORIES
Can't wait that long for new Reason music? No problem.
On March 9, Reason will release a FREE mixtape called
Stalker Stories
, made up of outtakes and bonus cuts from the
Landlords & Lullabies
sessions, featuring production by
Dox
and
Falside
, plus appearances by
Storm Davis
,
Esh The Monolith
,
Cas Uno
, and
Intrikit
of
Labeless Illtelligence
, and
Dirty Hank
.
Limited edition hard copies will be available for sale if you'd like to support the cause, but the music itself is a gift from Reason to you, and a little tease of what's to come on
Landlords & Lullabies
.
ET CETERA
Its a work in progress, but Reason has finally decided to join the rest of us in cyberspace and set up shop in a space where his own thoughts can reign supreme:
ListenToReason.net
is now live! Get your bookmark on.
Reason's partner-in-swine
Dirty Hank
recently released a free EP called
Dirty Hank's Guide to Giving Up
that features two guest shots from Medium Reas, as well as production from
Mad Plaid
& PDP's Falside.
And, if you're in need of a weekly dose of Reason's Radio Personality, be sure to tune into 90.3 FM WRIU (or stream online at
wriu.org
) every Tuesday afternoon from 3-6pm for
HAMRADIO
, featuring, yes, Reason, with Dirty Hank and a revolving band of ne'er-do-wells (including
Nystone
,
DJ Save
, and Falside) who loiter about the studio and distract the hosts as they play the finest in indie, underground, and old school hip hop.
IN CLOSING
Landlords & Lullabies
. April 6. Get ready.